SMART: Surgical Instrument Repair

Our service is the SMART choice - rather than incurring spikes in cost as instruments reach the end of their life, Surgical Holdings will identify those and replace them for the same price as the repair. Customers always know what they're paying, and never get unexpected bills.
| | |
| --- | --- |
| | Book, manage and monitor the repair of surgical instruments online with our Surgifix system. Instantly communicate directly with the repair team to stay up-to-date with the live progress of repairs. You can also view historical scope repair reports. |
| Customers receive an industry-leading 18 months warranty as standard on instrument repairs. | |
| | Standard turnaround times are 1 week, but an express 2-day service is available to help keep theatres running smoothly. |
| Instruments can be laser marked, encoded and GS1 2D matrix marked at the same time as a repair. | |
Surgifix Online Repair Portal
Surgifix is an online surgical instrument repair portal exclusive to Surgical Holdings. Allowing the whole repair process to be arranged and managed remotely.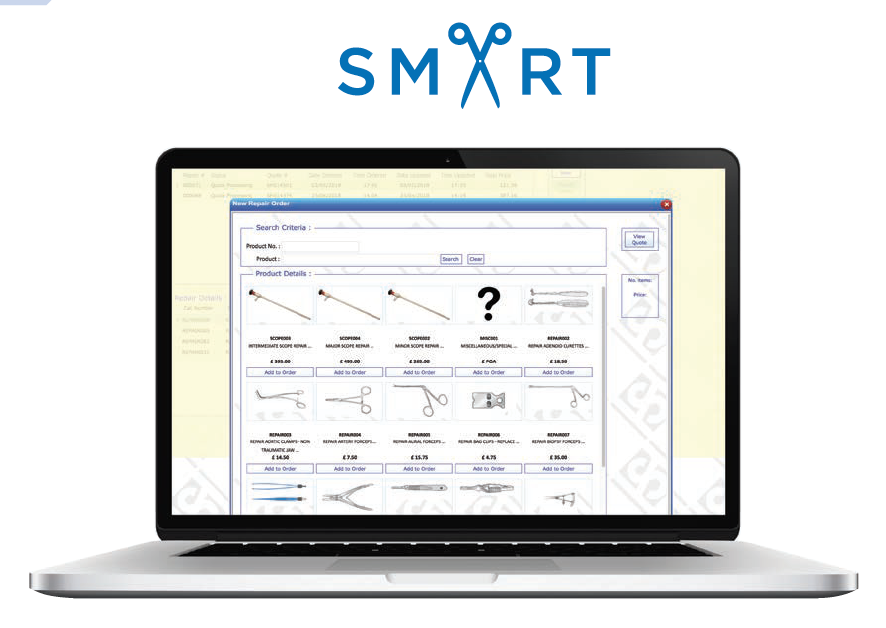 Customers can:
Get an instant repair price
Book a repair
Monitor live progress
View historical scope reports
Get access to exclusive discounts and offers
Surgical Holdings can repair all manner of reusable surgical instruments including Laparoscopic Instruments, Rigid Scopes, Pneumatic (air) Tools, Orthopaedic Power Tools including Electric Handpieces, Diathermy Leads and Bipolar Cables and other instruments, including the Bookwalter Retractor System.
SMART: Quality, Good Surgery Outcomes, Patient Safety and Saving Money.
High-quality service throughout
Highly skilled, experienced, technicians
Upcycling for instrument trays
Genuine long-term value, rather than a 'quick fix'
Our Repair or Replace Promise offers
Replacement for cost of repair
Surgifix Repair Portal designed to make managing repairs easy and quick
All surgical instrument repairs are carried out to an exceptionally high standard. The repairs are only completed and inspected by appropriately trained technicians. This would normally include a 5-year Apprenticeship.
Click the button below to read our new SMART repair and refurbishment brochure:
The Benefits of Using Our Surgical Instrument Repair Services
LONG TERM VALUE
All surgical Instruments are repaired to BS 5194 where possible, Original Equipment Manufacturer (OEM) specification in accordance with the recommendations laid out in MHRA 'Managing Medical Devices' to ensure the longevity of repair and protection of materials and hardness, which can be detrimentally affected by a non-OEM repair. Instrument repairs are carried out by Instrument Manufacturing Technician's who have been trained to manufacture the products, not just repair them. This ensures all repairs are carried out will full knowledge of the workings of each device, for the best value repair on the market.
HIGH-QUALITY WORKMANSHIP
Repair may include re-grinding, honing, re-setting, welding, polishing, and nitric acid passivation. Replacing instruments is avoided; however, when it is necessary, you will be notified of the cost. Broken instruments can be re-manufactured if no longer available, and some general instruments are replaced for the cost of the repair if the quality of the original doesn't meet our stringent standards.
TRACEABILITY AND LASER MARKING
Laser marking instruments gives improved tracking and traceability of instrumentation and can be linked into your own HSDU tracking system. When orders are placed, you can decide what you would like encoded. Your instruments are sized marked where practicable at no extra cost and can also be GS1 2D matrix marked.
PRICE
Recent projects have accounted for over a 50% saving for the refurbishment of instruments vs purchase of new instruments. Independent tests by Catra have proved our repairs cost as little as 0.0006p per-use after our repair for the device lifetime following repair.
NEW REPLACEMENT INSTRUMENTS FOR THE PRICE OF THE REPAIR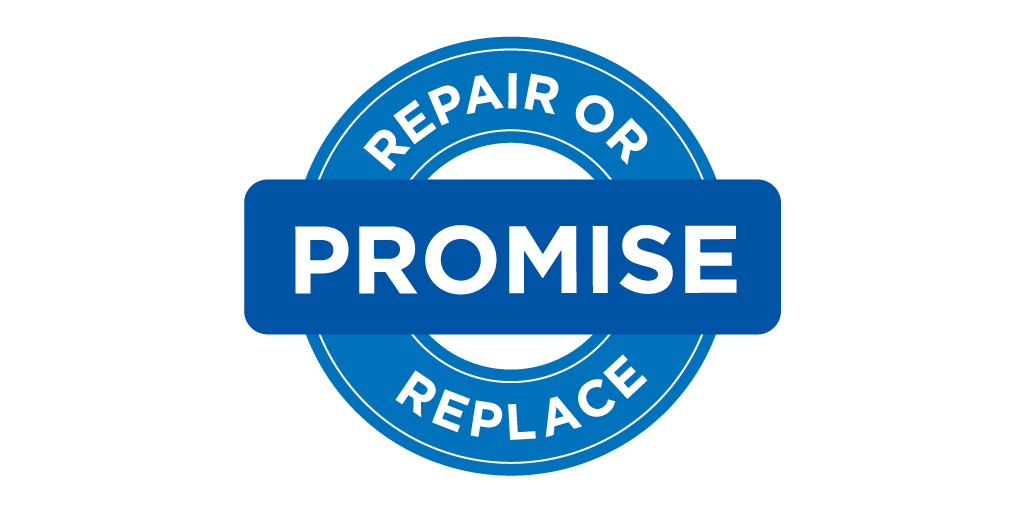 Some hospitals have very old or poor quality general instruments. Instead of repairing we replace with a new British Surgical Holdings instrument for the same price. Included is a new lifetime warranty. Instruments covered by the scheme are:
When the instruments arrive at our facility, the process is as follows:
The instrument is checked/logged for traceability.
A quotation is raised.
Once the purchase order is received, the repair is carried out
Repair is re-polished / finished.
Repair is laser marked for identification.
Repair is re-passivated.
Repair Boxes
We issue surgical instrument repair security boxes of varying sizes, which ensure your repairs are delivered back securely. Scopes are sent in separate protective boxes.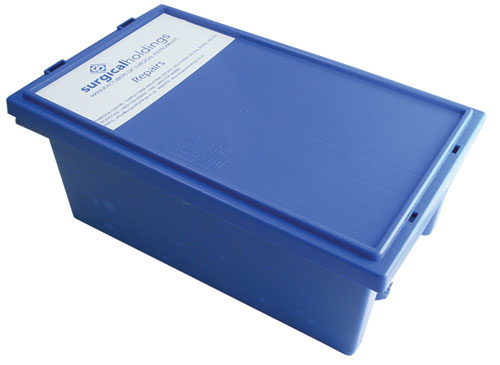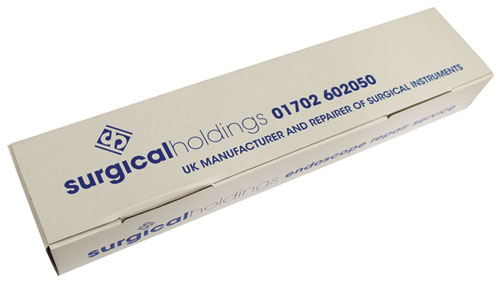 Collection and Delivery
Request repair box, tags and repair book by calling 01702 602050.
List items on repair sheet; include contact fax no or email address for a quote.
Seal repair items in the box and attach supplied security tags.
Call 01702 602050 before 10 am for same-day collection by our courier.
Stick pre-printed courier label on the box.
The collection will be booked and an airway bill will be emailed to you for printing out and to enable collection by the driver.
On receipt, we separate "routine repairs" from "special repairs" and issue quotations.
On receipt of your Purchase Order number, repairs are carried out within 7 to 10 days.
Repairs are returned in the security box, with a report of the work carried out.
Warranty
5-year warranty on surgical instrument repairs. 18-month warranty on scope repairs.
View Orthopaedic Power Tool Repairs
For more information about our surgical instrument repairs please email info@surgicalholdings.co.uk or call us on +44 (0)1702 602050.