Full Tray Instrument Refurbishment Programme
Why use Surgical Holdings Full Tray Refurbishment Service?
First...why not read a testimonial, get a snapshot of the refurbishment service or read a case study.
A cost saving of up to 80% compared to buying new instruments
Instrument makers handle instruments rather than repair technicians
Continual upcycle for your set quality
Enhanced Patient safety
Surface finish integrity repaired and restored
A managed service and schedule of repairs
Open communication from a dedicated account manager
A quick turnaround of sets for minimal downtime
Replacement of non-repairable general instruments for the price of repair
Safer instruments with an 18 month warranty
Significant environmental CO2 savings
Proven quality repair processes
OEM specifications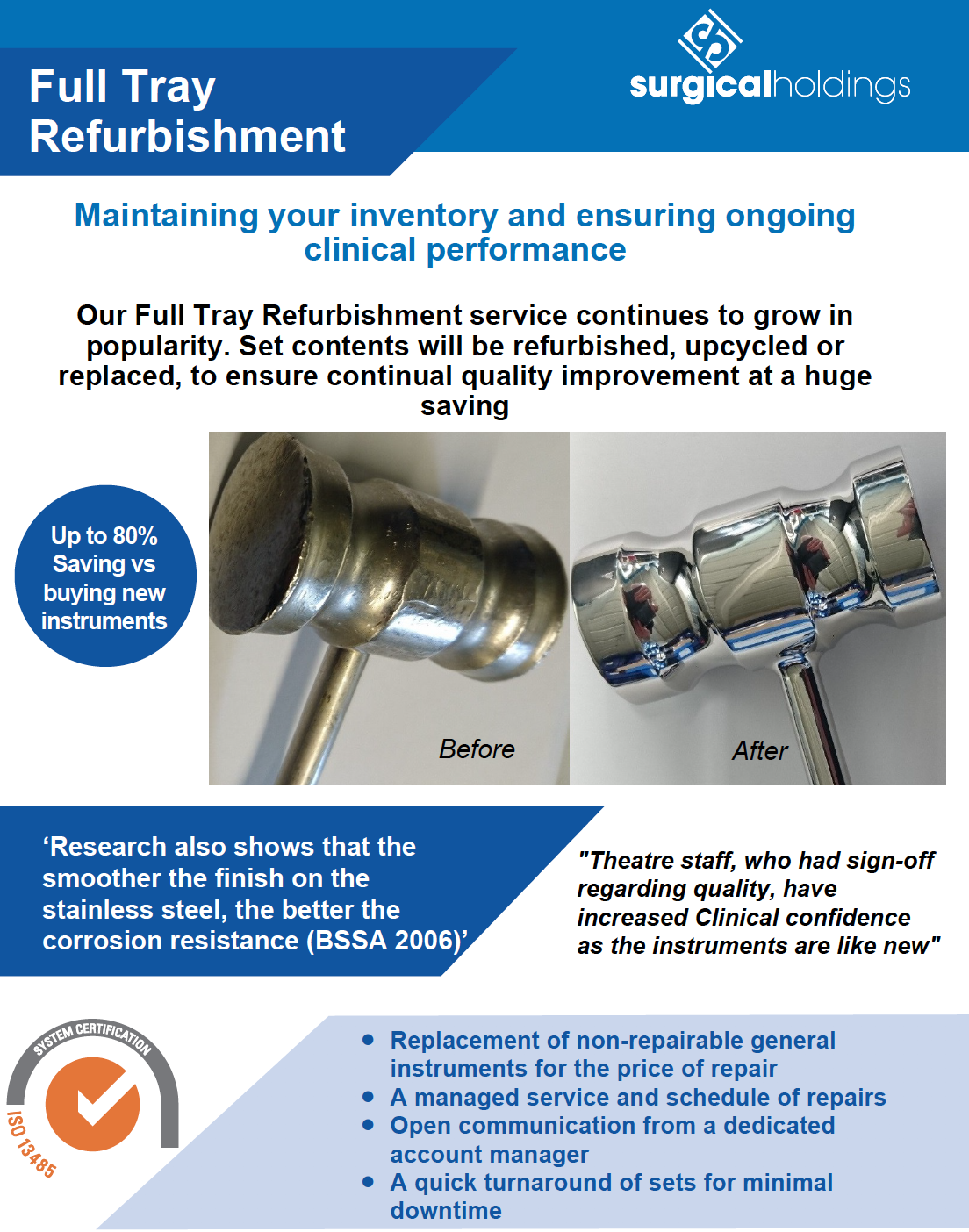 Please read our recent case study here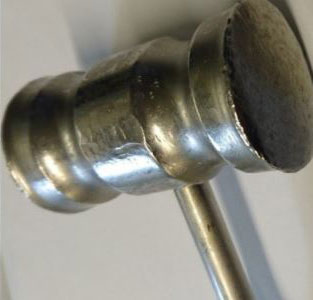 Before Refurbishment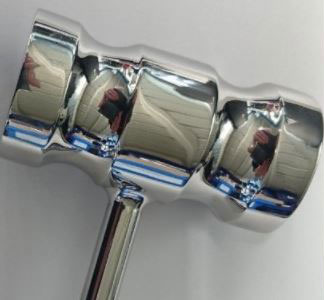 After refurbishment
With thousands of old instruments in circulation throughout hospitals, often surgeons, ODP's and SSD staff will all be crying out for new instruments. The cost of replacing all instruments for new in one purchase is likely to be very high, so typically instruments are replaced one by one, leaving some instruments in a constant state of disrepair.

Furthermore, with a focus on cross-contamination prevention and iatrogenic vCJD risk transmitted via contaminated surgical instruments, there should be greater care and attention to the condition of old and worn surgical instruments. Studies have shown how surface roughness and condition can directly impact protein adhesion, cleaning efficacy and corrosion resistance.

At Surgical Holdings, we are able to offer a complete refurbishment service at a fraction of the price of new instrumentation. It is a managed system where every instrument on every tray you wish to replace can instead be refurbished and returned in an 'as new' condition.
A Safer Product
Over the years your old instruments will have sustained knocks and dents creating areas of pitting, staining, corrosion and overall damage. By ensuring that all instruments are fully re-polished and re-passivated you improve the surface finish of the instrument. This, in turn, improves cleaning efficacy and therefore reduces the chance of cross-contamination. It also reduces corrosion issues, by polishing out any crevices or pits where water and protein can build up.
We have conducted studies into our manufacturing techniques in comparison to others. For example, our scissor sharpening technique prevents the stainless steel from heating up keeping the inherent hardness within the material. We have shown that this can make the scissor last longer and cut better.
Our skilled technicians inspect every instrument and rectify any poor manufacturing techniques – such as removing crevices where components have not been laser welded together or polishing all box joints to aid in cleaning efficacy. These additional steps ensure the instruments are sent back to you conforming to the highest levels of OEM specifications.
An assessment is also made on any instruments deemed unrepairable. General instruments will be replaced at no extra cost; other specialist items will be separated and returned as received with a quotation for a new replacement.
Example Processes
Count, check and identify all instruments on the tray- log for traceability
Sharpen and re-set- Scissors & Scissor Needleholders
Re-Set- All articulated instruments e.g. artery forceps, scissors, and needle holders.
Weld- Any cracks in the instruments, where a repair is possible, to save replacement.
Broken or damaged ends-we will repair( e.g this may involve welding and fitting new ends on one piece instruments), by welding, regrinding, and re-polishing.
Refinishing- All instruments will be Polished/Satin Finished/Bead blasting (as applicable) to make them as new.
Replaced TC Jaws- On needle holders if necessary
Non-TC needle holders
Re-plate gold bows- On needle holders if necessary
Riveting- Replacement of rivets on e.g. box joints, if necessary
Re-solder- On joints where necessary
Racks- Re-cut on e.g. Artery Forceps
Self-retaining retractors- replacement/repair of racks and triggers
Poilishing and refinishing, inline with OEM design
Passivation- When any instrument shows to be corroding, we will passivate to show up any substandard materials that may cross-contaminate other instruments on the tray. If necessary, we will replace the faulty instrument.
Cleaning- ultrasonic cleaning and lubricating
Laser Marking- We will mark with department name, if required Fit for Reprocessing- Upon completion of the refurbishment, we will ensure that the instruments on the tray are suitable for re-processing to relevant HTM standards
Or you can contact us at info@surgicalholdings.co.uk or call +44 (0)1702 602050.