Electrosurgical Generators by Bovie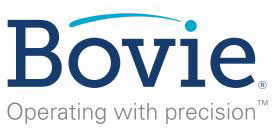 Bovie Electrosurgical Generators & Consumables
Symmetry Surgical has now acquired the Bovie Medical Electrosurgical Portfolio meaning that Bovie Electrosurgical Generators and Electrosurgical Consumables are now available through Surgical Holdings.
Symmetry Surgical proudly welcomed the Bovie® electrosurgical product line to our portfolio in 2019, including generators, electrodes, cauteries, accessories and the Bovie® brand. The Bovie international product catalogue can be downloaded here.
Electrosurgical generators are devices used to cut, coagulate, fulgurate, and desiccate tissue. The most active practices using electrosurgery in the non-acute space today are dermatology, plastic surgery, OB/GYN, and surgery centres.
The well-known and market-leading Bovie® brand continues the pioneering work of Dr William T. Bovie, who is credited as the inventor of modern electrosurgery. You can learn more about Electrosurgery here.
Bovie is the only company to manufacture electrosurgical generators from 10 Watt up to 300 Watt. All Bovie Generators carry an industry-beating 4 Year Warranty. Bovie also has a complete range of Forceps, Pencils and Return Electrodes. Electrodes, pencils, grounding pads, and a host of additional accessories work with virtually every electrosurgical generator.
We would like to introduce the range of versatile electrosurgical generators from the exciting Bovie Range.
Bovie Specialist Pro Electrosurgical Generator
Versatile 120 Watt Electrosurgical Generator. Suitable for Gynaecology Colposcopy, Dermatology, Laparoscopic and other applications.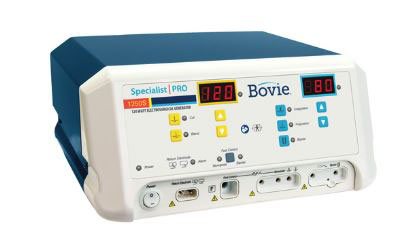 The Bovie Specialist | PRO is an affordable solution for the busy physician office or speciality facility. The multi-purpose unit features a modern push-button design and is capable of most monopolar and bipolar surgical procedures. The Specialist | PRO offers 5 energy outputs with up to 120 watts of power; modalities include Cut, Blend, Coagulation, Fulguration and Standard Bipolar. The unit is designed with dependable safety features like BovieNEM™ (Neutral Electrode Monitoring) pad sensing technology, BovieDED™ (Digital Error Detection), audible alert tones and self-test circuits. The Bovie Specialist | PRO satisfies the physician's electrosurgical generator needs with safety, reliability and convenience.
OB/GYNs who cut tissue are most likely performing a LEEP/LLETZ procedure (Loop Electrosurgical Excision Procedure or Large Loop Excision of the Transformation Zone). The electrosurgical generator OB/GYNs use must be able to cut and coagulate tissue and maintain enough power to complete the task. The classic device for this procedure is the Bovie® Specialist PRO A1250S-G – a scaled-down version of an operating room level electrosurgical generator. This system includes the electrosurgical generator and the Smoke Shark® II smoke evacuator on a mobile stand.
Download Electrosurgical Generator PDF
Bovie Smoke Shark II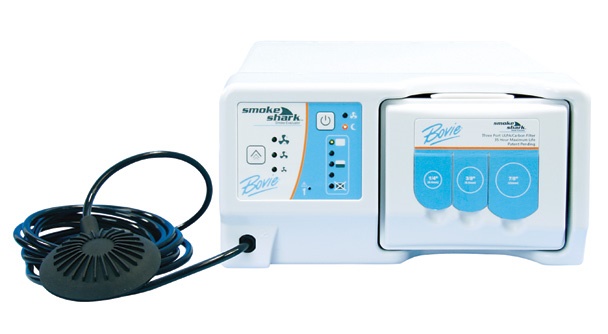 Effective Smoke and Particle Removal for safer surgery. Can be coupled with the Smoke Shark II for the ultimate Colposcopy Solution. A modern, light-weight, compact design allowing for simplified use, storage and stack-ability.

The SF35 Extended-Life Filter offers up to 35 hours of performance reducing procedure cost by ~38% from the previous model when used at the lowest setting.

Covered 3-port filter design accommodates a variety of tubing sizes [1/4″(6.4mm), 3/8″(9.5mm), and 7/8″(22mm)] providing versatility in the procedure and accessory setup.

The ultra-quiet design offers the same excellent performance with less noise. Find out more about the Bovie Smoke Shark II and Smoke Shark III here.
Download Smoke Shark Smoke Evacuation Brochure
Dermatology
Bovie Electrosurgical are the only company to offer various DIGITAL electrosurgical units from 10 watts to 40, all with a 4-year warranty. You can download their Dermatology Catalogue below.
Bovie Derm 942 Electrosurgical Generator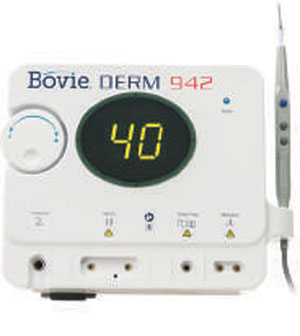 Purpose-built digital Derma machine, with a 4-year warranty and optional smoke evacuation.
The Bovie Derm 942 is designed and engineered to be the most reliable and durable desiccator available today.
40 watts of power
HIGHER RESOLUTION IN BI-POLAR MODE increase and decrease in 1/10th watt increments from zero to ten watts
MORE USER FRIENDLY with features that can save you time and money
LESS TO DO with fewer steps to accomplish the same procedures
LESS TO BUY Fewer accessories needed for additional functionality
The Bovie Derm 942 continuously monitors every aspect of the unit's output. At the sign of any problem, the machine instantly disables the output and displays the appropriate error code on the display.
The same 3-Button Pencil works with or without the optional footswitch. Simply plug in the optional footswitch and you are ready to go! Not only is the Bovie footswitch much more cost-effective, but you don't need to replace the handpiece.
The A902 handpiece (Patent #8,998,899) allows you to adjust the power output up and down as well as to activate the unit, even when you are in foot control mode.
Download BOVIE Dermatology Catalogue
Bovie Bantam Pro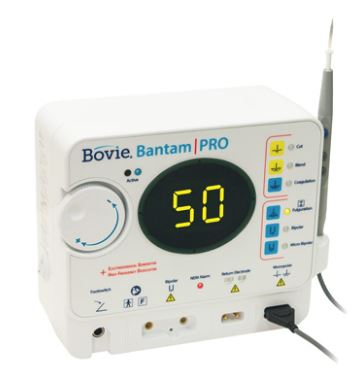 The Bovie Bantam | PRO, A952 is a High-Frequency Desiccator with cutting ability. You might call it a split personality. One half of the unit is a high-frequency desiccator, an upgrade to our very popular Aaron® 940. The other half is a Bovie Generator, giving you 50 watts of cutting power and coag capabilities – plenty of power for most cutting procedures performed in the doctor's office.
The Bovie A1250S and Bantam are the perfect machines for Colposcopy procedures. Surgical Holdings have developed a Colposcopy range focused on high-quality products
REUSABLE LOOPS/SQUARES, ELECTRODES

All Bovie® LLETZ Loop and Square electrodes feature tungsten wire for superior shape and integrity throughout the excision procedure. The electrodes use a standard 3⁄32" (2.3mm) shaft. All moulded loops are packaged in a patented protective tray to prevent damage during shipping. Electrodes are 5 – 25 autoclave cycles, refer to the Instructions For Use in the package for proper reuse.
DISPOSABLE LOOP ELECTRODES
All Bovie® LLETZ Loop and Square electrodes feature tungsten wire for superior shape and integrity throughout the excision procedure. The electrodes use a standard 3/32" (2.3mm) shaft. All moulded loops are packaged in a patented protective tray to prevent damage during shipping
View Surgical Smoke Evacuation Systems