DIN Baskets & Endoscope Baskets
DIN Basket Solutions
We understand that problems with instrumentation including breakages, disorganisation and issues with washing and sterilisation can be expensive and cause frustrating delays. Surgical Holdings manufacture DIN Baskets and Endoscope Baskets. We stock all popular sizes of DIN basket, including 480 x 250 x 50mm. Providing useful solutions to help best manage these valuable assets, and help prevent unnecessary expenditure.
Optimise Surgical Instrument Cleaning
✔ Protect patients and your valuable assets, by reducing damage to instruments during reprocessing.
✔ Fixation means instruments can be held in an open position for improved cleaning efficacy.
✔ The use of silicone fixings rather than matting improves the drying performance of the basket.
✔ The tray can be designed around your set and requirements.
✔ Cleaning of complex surgical instruments made easier.
✔ Ideal for ENT sets, ophthalmic, plastics, micro and orthopaedic sets where the sharpness of the instrument is essential.
✔ Laparoscopic basket sets and Da Vinci can also be manufactured.

We also offer bespoke DIN baskets that may be required for delicate instruments or hard to clean instruments, such as ENT, Ophthalmic, Laparoscopic or just for general re-organisation of baskets for more efficient cleaning and reprocessing. These baskets are fitted in our workshop in Southend-on-Sea, Essex.
Medical-Grade Silicone and Fixations
The set shown in the image below is a Hand Set that we manufacture. The customer wanted these delicate instruments organised safely, for easy presentation to the surgeon. We utilise medical-grade silicone and fixations that reduce the risk of tray tearing.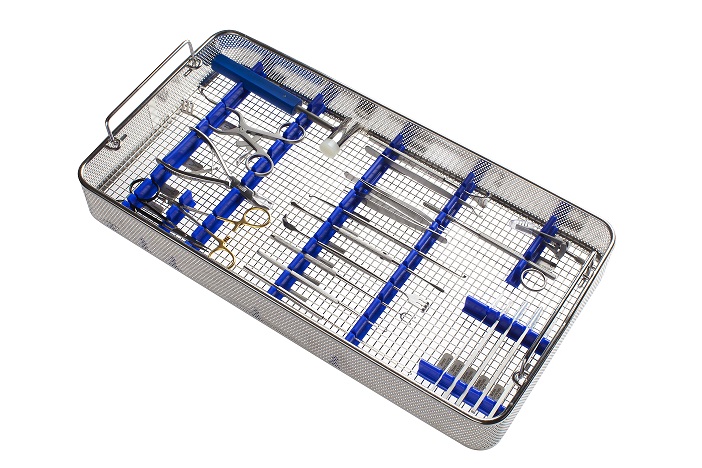 Bespoke DIN baskets can be made depending on the requirements of the surgeon and what they require in their set. We also manufacture custom endoscope baskets for holding expensive scopes in place.
Our sales representatives will visit you free of charge to discuss your requirements and take measurements.
An Extensive Range of Trays & Baskets
We have an extensive range of standard size sterilisation trays and DIN baskets. All of our din baskets come with 1-year manufacturers' warranty.
Please take a look at our latest brochure which shows our full range:
Download Tray, Baskets, Fixation & Matting PDF
For more information about our bespoke din basket & endoscope basket solutions please email info@surgicalholdings.co.uk or call us on +44 (0)1702 602050.