Kirschner Wires (Sterile Packs)
Sterile-Packed Kirschner Wires
Kirschner Wires at Surgical Holdings are packed in sterile singles, in boxes of 10 and are Gamma Irradiated with a 5-year shelf life. All popular sizes are stocked for next-day delivery.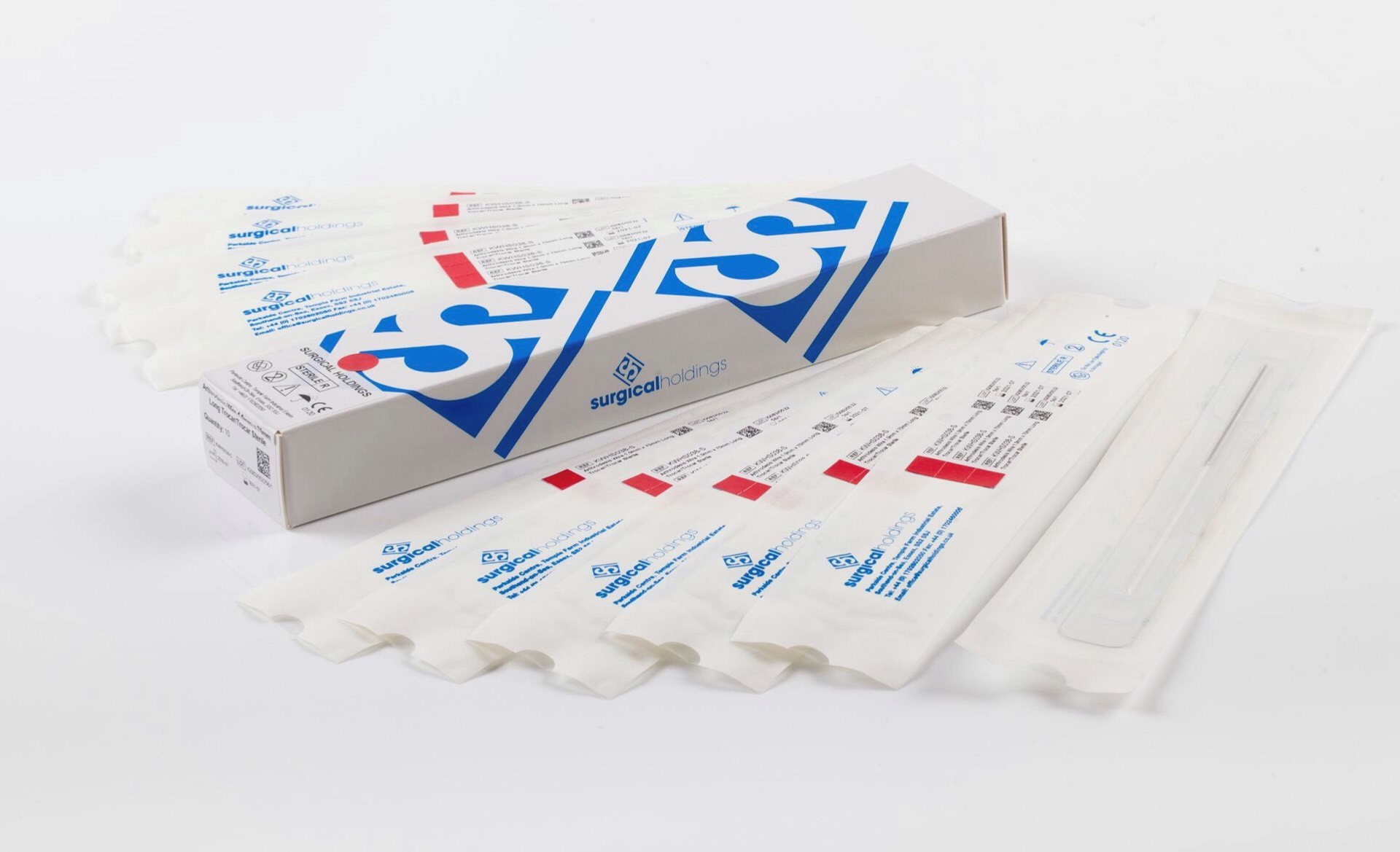 Kirschner wires are sharpened, smooth stainless steel internal fixation pins widely used in orthopaedic surgery to hold fragments of bone together or to provide an anchor for skeletal traction. K-wires can also be used to guide cannulated screws to a precise location and for temporary joint immobilisation. The wires are used for temporary fixation during some operations. After definitive fixation, the wires are then removed.
In the UK and around Europe, hospitals are now opting to buy their Kirschner wires (K-wires) sterile packed, as this is more hygienic and safer for the patient. Surgical Holdings manufacture and sell Kirschner wires with a 5-year shelf life. The wires are packed in their own individual pouches for protection and storage. We hold all popular sizes of skeletal wires in stock and are able to manufacture any custom size, including threaded wires.
How are Kirschner wires Made at Surgical Holdings?
We keep stock of bars of European grade stainless steel in our factory in Southend-On-Sea. Our highly skilled technicians then cut each wire down to size and hand sharpen each trocar tip. If the wire requires a thread we then use a machine to individually thread each wire. The details are then processed through the system, all materials that were used are logged for our traceability reasons and then processed through for sterilization. During this time they are individually machine packed with protective tubing and blister pouches to protect the wires and packaged accordingly, the packaging usefully includes several patient labels for the hospital use of patient record traceability. The packaging of our sterile wires will always include product number, product description, expiry date (5 years), manufacturing date and the GTIN barcode.
Why Choose Sterile Kirschner Wires?
✔ Highest grade implant quality stainless steel to ISO 5832-1
✔ Reduces risk of sharps injuries to Sterile Services personnel
✔ Surgical Holdings holds all popular sizes in stock and can manufacture any custom size, including threaded wires
Safer for patients
The Scottish Executive Health Department (2009) found evidence that reprocessed products "retain or acquire organic and/or chemical residues during use and reprocessing. There is evidence to suggest that reprocessed steel implants can cause inflammatory reactions to a much greater degree than 'pristine' devices as delivered by the manufacturer."
Improved Performance
Repeated reprocessing creates concerns about corrosion, weakening and surface oxidation, which could affect implant failures.
Read our Blog for More Information

Hygienic Safety
Sterile Kirschner Wires should be handled with care to avoid injury as they may have sharp edges. The product is supplied in a sterile state, in order to remain in this state, it must be kept in a sterile environment and handled with sterile rubber gloves and other necessary clothing. It must be used in a sterile operating theatre. All necessary precautions should be taken to avoid contamination, and for the device to remain in a sterile state.
These products are only to be implanted by a qualified medical practitioner using compatible CE marked instruments/Devices.
Skeletal wires should only be used for fusion, skeletal traction, and fixation (to fixate bones while they are healing) in the areas of the body for which they were intended, namely hands and feet.
Kirschner wires are non-permanent implants, they should be removed after 120 days, and SHOULD NEVER BE REUSED. The skeletal wires should never be misused in any way.
When using K-wires with orthopaedic power drills it is important to ensure that they are inserted correctly. If they are not straight, they can cause further damage when inserted, or even snap off inside a patient as circular motion passes through the straight metal.
Five-Year Shelf Life
Our most popular wires are now sterile Kirschner wires. These come in packs of 10 (single packed). They are available directly or through NHS Supply Chain. The wires are manufactured with a 5-year shelf life. All are manufactured in our factory in Southend-on-Sea and then sterile packed, and are available in a variety of sizes and styles.
We stock all popular sizes of Kirschner wire. if you would like to make an enquiry, please email us.
Arthrodesis and Kirschner Wires Overview
Non-Sterile Kirschner/Arthrodesis Wires Instructions for Use
Sterile Kirschner/Arthrodesis Wires Instructions for Use