Surgical Holdings recently carried out a Surgical Instrument Refurbishment Project, with a hospital in the South East of England. The project ran over a period of 18 months, where on average 2 trays were sent back for refurbishment per week. A total of 6601 surgical instruments were refurbished.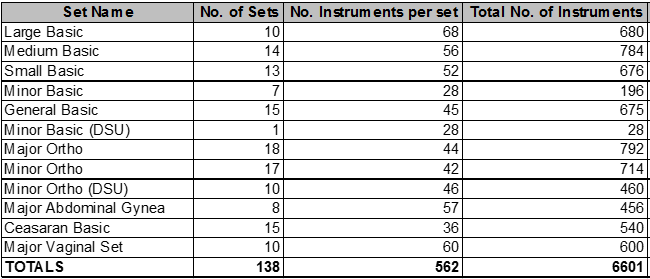 With thousands of old instruments in circulation throughout hospitals, often surgeons, ODP's and SSD staff will all be crying out for new instruments. The cost of replacing all instruments for new in one purchase is likely to be very high, so typically instruments are replaced one by one, leaving some instruments in a constant state of disrepair.
Furthermore with the necessary focus on cross contamination prevention and iatrogenic vCJD risk transmitted via contaminated surgical instruments, there should be greater care and attention to the condition of old and worn surgical instruments. Studies have shown how surface roughness and condition can directly impact protein adhesion, cleaning efficacy and corrosion resistance.
At Surgical Holdings we are able to offer a complete surgical instrument refurbishing service at a fraction of the price of new instrumentation. It is a managed system where every instrument on every tray you wish to replace can instead be refurbished and returned in an 'as new' condition
This option can save huge amounts of money in comparison to purchasing new, it can reduce your hospitals carbon footprint, and it will make your instruments safer for your patients.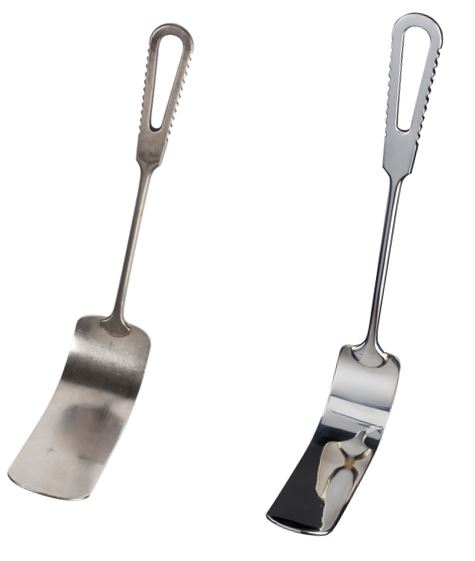 Procedure
One main contact at the customer's site will be established, and a Customer Account Manager assigned at Surgical Holdings. This will aid smooth and efficient communication between the two parties.
Quotations are issued based on a review of the type and contents of each tray, and the overall condition of the instruments for refurbishment.
An inventory of each set will be taken to aid with tracking and scheduling the return of the trays. Depending on the duration of the project we can refurbish up to 4 trays per week, ensuring a quick turn around on all sets and minimal disruption for your teams.
DHL, an established courier service, will be utilised for the transport of the trays. The trays themselves will be packed into a Surgical Holdings repair transport container to prevent any damage during transport.
All instruments are refurbished by highly skilled technicians, and returned with a 5 year warranty. To identify the warranty period Surgical Holdings laser print the date repaired on every instrument.
 Any existing markings are left on the instruments, to identify OEM's and CE labels and for general traceability.
 A safer product
Over the years your old instruments will have sustained knocks and dents creating areas of pitting, staining, corrosion and overall damage. By ensuring that all instruments are fully re-polished and re-passivated you improve the surface finish of the instrument. This in turn improves cleaning efficacy and therefore reduces the chance of cross contamination. It also reduces corrosion issues, by polishing out any crevices or pits where water and protein can build up.
We have conducted studies into our manufacturing techniques in comparison to others. For example, our scissor sharpening technique prevents the stainless steel from heating up keeping the inherent hardness within the material. We have shown that this can make the scissor last longer and cut better.
Independent testing carried out by CATRA – shows performance comparison between a non OEM repaired scissor (top) and a Surgical Holdings repaired scissor (bottom)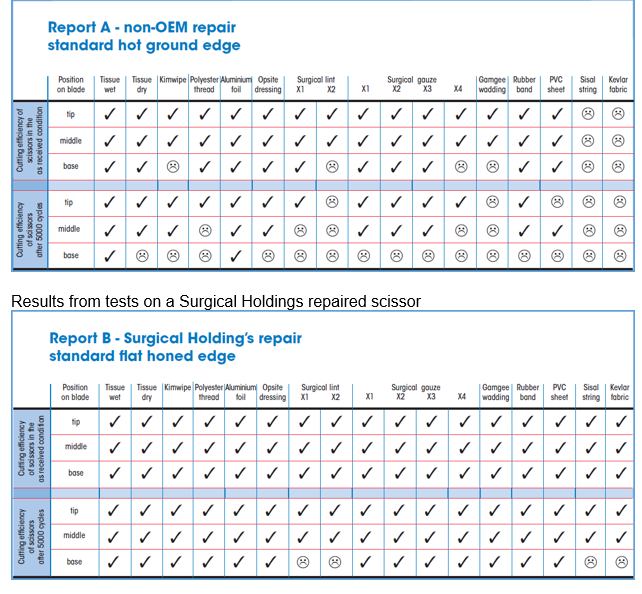 Our skilled technicians inspect every instrument and rectify any poor manufacturing techniques – such as removing crevices where components have not been laser welded together or polishing all box joints to aid in cleaning efficacy. These additional steps ensure the instruments are sent back to you conforming to the highest levels of OEM specifications.
An assessment is also made on any instruments deemed unrepairable. General instruments will be replaced at no extra cost; other specialist items will be separated and returned as received with a quotation for a new replacement.
Reducing your Carbon Footprint
Finally by choosing to refurbish over purchasing new you are actually reducing your carbon footprint. Studies we have commissioned show that by refurbishing '2600 instruments' instead of purchasing new, you save enough energy to power a house for an entire year
The Savings
A total of 6601 instruments were refurbished which represented an overall saving of £92,374.10 or 70% against purchasing new.
Summary
A cost saving of up to 70% compared to buying new instruments
A managed service and schedule surgical instrument refurbishment
Open communication from a dedicated account manager
A quick turnaround of sets for minimal downtime
Replacement of non-repairable general instruments for the price of repair
Safer instruments with 5 year warranty
Significant environmental CO2 savings
Proven quality repair processes
OEM specifications
Contact our customer services team on 01702 602050, or email us on info@surgicalholdings.co.uk and we will arrange a free of charge consultation with one of our representatives to discuss your requirements further.
The following two tabs change content below.
Daniel Coole has been involved in the surgical instruments and the medical device industry for the past 17 years and is the Managing Director of innovative surgical instrument manufacturer, Surgical Holdings. Daniel is also the Vice Chairman of the Association for British Healthcare Industries Surgical Instrument Group.
Latest posts by Daniel Coole (see all)