By Daniel Coole at Surgical Holdings in Industry
Testing Surgical Instruments for Corrosion Resistance
Any surgical instruments you purchase in the UK, which are CE marked should be correctly passivated and corrosion resistant. You can carry out a simple test which is recommended in the British standards for Surgical Instrumentation (BS 5194 series), to detect any free iron and chromium depletion.
What you need:
1. Copper sulphate solution
2. Distilled water
3. Ethanol
The instrument is manually cleaned the and immersed in ethanol, then dried. Instrument is dipped in the copper sulphate solution for 6 minutes at room temperature, removed, washed with distilled water and wiped. You can then check for copper deposits, which if significant will show up as pink marks, where potential areas for corrosion are detected.
This can also be used to detect non surgical instruments which are being used on trays in correctly, please see the following stationary bulldog clip: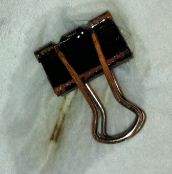 If you want more information on the benefits of these tests and where they should be used, please contact us directly info@surgicalholdings.co.uk We do not recommend carrying out these tests, unless you are trained by a suitably qualified instrument technician.
The following two tabs change content below.
Daniel Coole has been involved in the surgical instruments and the medical device industry for the past 17 years and is the Managing Director of innovative surgical instrument manufacturer, Surgical Holdings. Daniel is also the Vice Chairman of the Association for British Healthcare Industries Surgical Instrument Group.
Latest posts by Daniel Coole (see all)