Discover something new.
Surgical Holdings' distribute the 'Chirobloc' Arex Hand, as we believe that the product is the safest and most innovative alternative to the 'lead hand'.
Recent research shows that there are many negatives to using the hand surgery immobilisers containing lead, also known as the 'lead hand' as a method in hand surgery. There are also products which are lead but coated, which if the coating cracks will also pose an issue as lead will be exposed. This can be potentially dangerous to the patient.
A few further negative points from of using the 'lead hand' include the following:
Lead may transfer through the glove and on to the patient.
Handling the surgical wound may cause some of this lead to contaminate the patient's tissues.
A further study demonstrates that the amount of lead contamination of the surgeon's gloves is directly related to the amount of contact with the lead hand. 
A study shows that up to 2 mg of lead can be transferred to a surgeons glove by direct contact with the lead hand.
The effect of this potential lead contamination both locally and systemically is unknown but may be the cause of florid inflammatory (i.e.foreign body) reaction seen in some patients.
An effective and recommended alternative to the 'lead hand', is the 'Chirobloc' Arex Hand. Many of those benefits include:
The Arex Hand, is fully reusable, contains no lead and has no limitations on the amount of uses.
The product consists of composite bio compatible material.
Saves space otherwise taken by assistant's hands.
Malleable device for maintaining hand position.
Proprietary surface treatment for easy cleaning.
Radiolucent to allow x-rays without changing hand position.
Rounded metal edges and corners to protect the coating.
Metal alloy interior, coated with high quality composites.
Variety of sizes for accurate end use.
Includes five forget me not ties and ballasts, to hold finger positions with Chirobloc.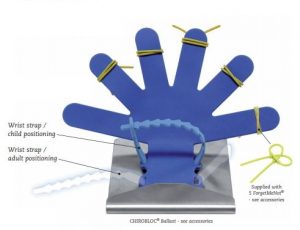 Please see below a direct link to the Surgical Holdings' website/page for the 'Arex Hand' with further information:
https://www.surgicalholdings.co.uk/surgical/surgical_instruments.php?content=catalogue&cat_view=focus&category_id=10&sub_id=429&product_id=3250
"We are able to service and repair any product that you may have, performed by highly skilled and trained in house technician's in the UK at our head office."
Thank you for your time reading the above post. If you have any questions, or require any further information, please do not hesitate to contact a member of the team on: 01702 602050 
Next post: Ear, Nose & Throat Instruments.
The following two tabs change content below.
Latest posts by Amy Mills (see all)