Here at Surgical Holdings, we provide a vast and detailed range of urology instrumentation. We are proud to manufacture all general surgical instruments in house within the urology catalogue, produced carefully by our highly skilled technicians, based in our UK head office. Our urology instrument catalogue includes the following categories:

Urethral Bougies – Cylindrical instrument for introduction into the urethra, usually for calibrating or dilating restricted areas.
Urethral Sounds – Probes to increase the inner diameter of the urethra and to locate any obstructions in it.
Retractors – To protect vulnerable areas from damage during the transecting and removal of a urethral defect.
Forceps – For removing foreign bodies from the urethra.
Whilst we provide a variety of general instrumentation in house, we also have great pleasure in distributing other established brand names within the industry, such as Symmetry and Bissinger. We are the only UK distributor for both brands.
Please see below a brief overview of the products and services for each brand:

Bissinger

The Bissinger range accompanies our portfolio of urology instrumentation, which has been purpose built for transurethral resection. A key product within there range is the Bissinger Plasmaloop True Bipolar Resectoscope. There are various benefits to using this bipolar instrument, such as:

Allows electrical current to be restricted to the operating field only
Current is always visible
Current is easily controlled
Superior to Monopolar technology
This Resectoscope has been developed such that outstanding ignition performance and current can flow between the two distal electrodes only, ensuring precise and reliable cutting and coagulation throughout each procedure. The unique ergonomic handle design ensures it easy to use with a variety of different Plasmaloop ends from which to choose.
"In Monopolar procedures, the high current flow is passed from the surgical field through surrounding tissue and the body of the patient back to the HF surgical unit via a neutral electrode, whereas in bipolar procedures current flow is limited to the operating field only. The bipolar Plasmaloop system greatly reduces the risk associated with the use of conventional Monopolar systems, risks such as uncontrolled current flow are eliminated. With Plasmaloop, the current flow is limited to the space between the two distally placed electrodes and occurs only in the area which is visible to the surgeon." – Bissinger
Symmetry Surgical® Urology Instruments
"Symmetry Surgical has a dedicated facility and team in Tuttlingen, Germany, the global centre for high-quality surgical instrument manufacturers. The instruments are manufactured in conformance with proven processes that combine the latest technologies with the time-honoured traditions that are the foundation of the craft of instrument manufacturing. Well-trained and experienced surgical instrument makers produce the instruments by hand. Masters in their profession, instrument makers fine-tune each instrument before it is shipped to our inspection and receiving site, where each receives a thorough review for quality and fine craftsmanship." – Symmetry Surgical
Through Symmetry Surgical®, we are able to offer their selection of specialised urology instruments including the following products:
Catheters
Guides
Clamps
Forceps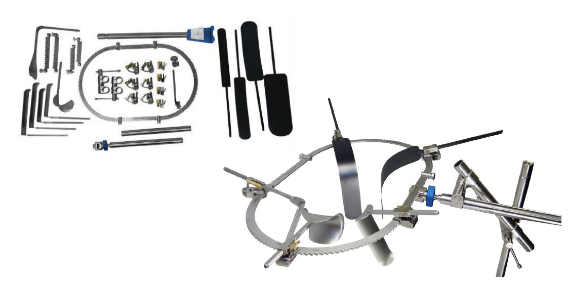 Alongside their own range of urology instruments, their outstanding and unique Bookwalter® retractor is widely used and highly recommended by surgeons for many urological procedures.
As you may have read in a previous blog, which was dedicated to the Bookwalter®, you will understand that the retractor is a high-quality table fixed retractor that allows for improved access to the operating field and stable retraction throughout long procedures. There are various ring sizes, retractor blades, and ratchet styles to choose from to customise your kit. This innovative retractor can be used for various procedures such as kidney or prostate removal, amongst many other things.
Thank you for reading the above blog. We have various different catalogues to download on our website for the above products/service, which are useful to refer back to and can be saved to your desktop. Please do not hesitate to contact our head office team if you have any questions or would like request pricing on any of the listed products: 01702 602050 or info@surgicalholdings.co.uk
The following two tabs change content below.
Latest posts by Amy Mills (see all)