We're going to take a look at some historical facts and figures in the world of neurosurgery and how their inspiring inventions became lasting legacies, which are still used in neuro theatres today.
Harvey Cushing (1869-1939)
Harvey Cushing was a leading pioneer in the field of neurosurgery, and actually introduced North America to non-invasive blood pressure monitoring.  Many call him the 'father of neurosurgery.' He used x-rays to diagnose brain tumours, electrical stimuli for study of the human sensory cortex and performed many challenging operations, forging the way for the field of neuroscience we see today. Working in the field in WW1 he was awarded the Distinguished Service Medal by the US Army, and throughout his career was awarded many other medals, awards and positions of authority. There is even a stamp dedicated to him and his achievements: –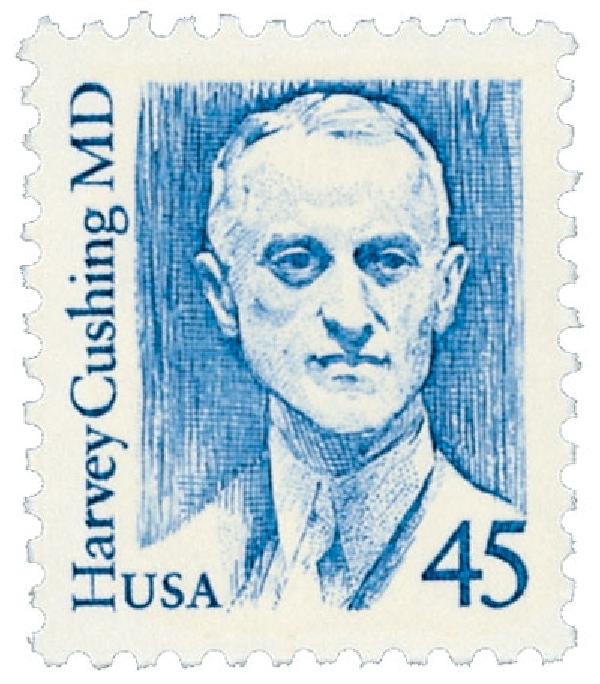 William Bovie (1882-1958)
William Bovie, worked along side Harvey Cushing developing various instrumentation. Bleeding had been the significant obstacle in neurosurgery, until Bovie and Cushing began to use electrosurgical technology in 1926. Bovie's device allowed Cushing to explore operations in patients with brain masses that had been declared inoperable. While the device revolutionized surgery, there were occasional technical problems. Cushing recalled an instance in which the current from Bovie's device short circuited through a retractor. Electricity traveled up Cushing's arm and to his headlight, an experience that Cushing described as "unpleasant to say the least!"
Did you know: Bipolar forceps are commonly used in neurosurgery, and the final figure we will consider is Leonard Malis (1919-2005), creator of the Malis Bipolar Forcep.  Professor Malis worked his way through school using summer earnings as a jukebox and slot machine repairman, and career highlights include building his first bipolar coagulator whilst at Yale and setting up the first electrophysiology laboratory in Mount Sinai, where he worked for the rest of his life.
As you can see there is a history to most instruments and for the core range not much has changed since it was first designed – Our brains have not changed shape in the past 100 years, so neither has the instrumentation.
We provide the Symmetry Surgical range, as the exclusive and only distributor in the UK. All products are detailed on our website for further information.
If you would like to talk to us about the Symmetry Surgical neurosurgical range or have any questions about the products listed above, please do not hesitate to contact the office on: 01702 602050.
References available on request for the historic William Bovie and Harvey Cushing text above.
The following two tabs change content below.
Latest posts by Amy Mills (see all)