Surgical Holdings stock a variety of all commonly used din baskets. Whilst we stock a vast range of popular sizes, we also provide bespoke and made to measure sizes for each individual requirement which ensures each basket is more efficient for cleaning and reprocessing.
We are able to custom make your din/endoscope baskets, with amendments such as:
• Ability to include delicate instruments, securely holding them in place
• Ability to include cataract/phaco sets
• General re-organisation of the basket to suit operational needs
How many times have you had to cancel a procedure due to torn wrap?
All of our baskets are designed with the not only the end-user in mind but with SSD too. High-quality din baskets are essential for any SSD. With the design and high-quality finish provided, this ensures that no perforation of wrap can occur due to sharp edges, poor design or substandard material which can lead to cancelled patient and procedures.
As well as the standard sizes of din baskets, Surgical Holdings can offer a bespoke service tailoring each basket to the specific requirements of that set. This may be mounting of delicate instrument or Rigid scopes to ensure no damage occurs or simply identifying each instrument with a laser marked tag.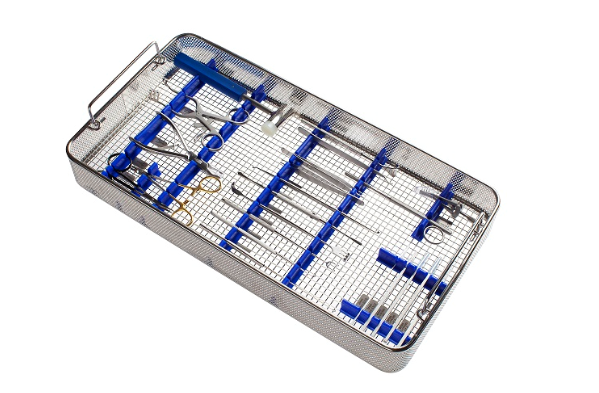 The above photograph of a din basket, is for a hand set that we manufacture in house here at Surgical Holdings. This basket ensures each instrument is organised in a secure and delicate manner, which is fit for safe and effective use when in operation.
Surgical Holdings use only the highest quality materials, using medical grade silicone for fixations that reduce the risk of tray tearing: promoting a longer usage. Each basket is made dependent on the surgeon's requirements and based on which products are required for each one. Our baskets have a variety of uses and can also be used for holding expensive scopes.
Our baskets are manufactured from 304 stainless steel and come with a 1 year warranty on faulty workmanship and materials.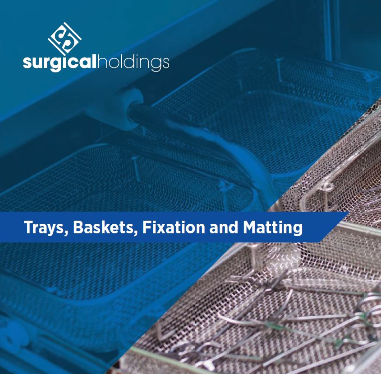 Did you know: We are able to service and repair any product that you may have, performed by highly skilled and trained in house technician's in the UK at our head office.
"As instrument makers and specialists, we can offer an unparalleled service proving in-depth knowledge, not only on the baskets but also the instruments themselves. No one can offer the service that we can." – Andrew Robertson, Sales Account Manager, Surgical Holdings.
Thank you for reading the above post and if you require any further information, or have any questions, please do not hesitate to contact our team on: 01702 602050.
The following two tabs change content below.
Latest posts by Amy Mills (see all)