It comes as no surprise that the NHS waiting lists for backlogged operations is overwhelmed at present. Currently, some 5.3 million people are waiting for routine operations and procedures in England, and this figure is not yet finished increasing.

Non-emergency operations such as Orthopaedic hip and knee replacements are in such high demand at present, that it is probably worth a revision on the approach of just how are these overwhelmed surgical theatres going to deliver these much-needed procedures? Healthcare providers are having to consider more feasible solutions such as considering our award-winning refurbishment and repair services, to enable the upkeep of specialist equipment such as Orthopaedic instrumentation.

Education | Orthopaedics
Orthopaedic surgery is a specialty, dealing with acute injuries, congenital and acquired disorders and chronic arthritic or overuse conditions of the bones, joints and their associated soft tissues, including ligaments, nerves and muscles.

Most consultants work alongside general surgeons in emergency trauma dealing with bony and soft tissue injuries admitted through their local A & E Departments. Paediatric orthopaedics require different fracture treatment due to growing bones and corrective treatment for childhood deformities.
The main procedures undertaken by orthopaedic surgeons are:
Joint arthoscopy – a minimally invasive technique which involves inserting probes into the joint to diagnose and repair damaged joint tissue (eg to torn ligaments or floating cartilage).

Fracture repair – a whole series of techniques are used depending on type, severity and location of fracture to ensure that bones are stable, heal correctly and patient retains function. This can include permanent pins and plates, immobilization, use of external pinning and frames.

Arthroplasty – the replacement of whole joints, usually due to osteo- and rheumatoid arthritis. Hip and knee replacements are the most common operations.

General repair procedures on damaged muscle or tendon.

Corrective surgery – procedures aimed at correcting problems of anatomical alignment which either limit function or would cause long-term problems if left.

Manufacturing for Orthopaedics at Surgical Holdings

At Surgical Holdings, we offer corresponding products and services ranging from newly manufactured Orthopaedic equipment including extremities instruments for specialised surgeries of the hand and hip Arthroplasty, to sterile Kirschner Wires, Arthrodesis Wires and Steinmann Pins, alongside our innovative products such as easy-to-clean detachable Kerrison Rongeurs.

Visit https://www.surgicalholdings.co.uk/orthopaedic/ for more inclusive instrument brochures.
Our supply of new Orthopaedic instrumentation is designed for surgeons and paediatricians providing surgery for problems concerning the musculoskeletal system. Designed for surgical and non-surgical procedures involving musculoskeletal trauma, sports injuries and infections (to name a few), our instruments are manufactured in accordance with BS 5194.
Our range of orthopaedic instruments include:
Osteotomes -For cutting and preparing bone.

Bone Cutting Forceps -For cutting and removing bones during orthopaedic surgery.

Gigli Saws -Flexible wire saws used by surgeons for bone cutting. Used mainly for amputations.

Plate Benders-Used to bend a plate to the appropriate configuration and during bone fracture surgery.

Focus on Krischner Wires
Whilst we're here, let's take a moment to indulge in the technical knowledge of one of our most popular products. Kirschner Wires are a popular choice in production here at Surgical Holdings; packed in sterile singles for protection and storage, and Gamma Irradiated with a 5-year shelf life, all popular sizes of skeletal wires are stocked for next-day delivery, and can be manufactured to any custom size, including threaded wires.
Kirschner wires are sharpened, smooth stainless steel internal fixation pins widely used in orthopaedic surgery to hold fragments of bone together or to provide an anchor for skeletal traction. K-wires can also be used to guide cannulated screws to a precise location and for temporary joint immobilisation. The wires are used for temporary fixation during some operations. After definitive fixation, the wires are then removed. 
Education | Sterilisation and Protection of scopes and instruments

Sterile Kirschner Wires are supplied in a sterile state. All sterile products must be kept in a sterile environment and handled with sterile rubber gloves and other necessary clothing. It must be used in a sterile operating theatre and all necessary precautions should be taken to avoid contamination. This is true to all aspects of protecting surgical scopes and instruments. Alongside health and safety conscious practice, a range of point protectors, tip caps, and corners protect your instruments and wrapped sets as they move between departments.

Repair and Refurbishment for Orthopaedics at Surgical Holdings
Opposing to the manufacturing of instrumentation; with ever growing pressure pushing down on Sterile Services to keep up with the upcoming operations, healthcare professionals may not be in a position to continuously purchase new equipment. Considering standard lead times and financial cuts, we consider that servicing the equipment may be the other way to go.
To minimise costs, healthcare trusts and professionals are more commonly having their current trays refurbished as opposed to replacing the instruments. Servicing existing instruments, such as the refurbishment of full hip sets, ensures that trays are in suitable working condition and return the instruments to a new quality standard.

Refurbishment and Repair is a more than viable option to ensure continual quality improvement at a huge cost saving.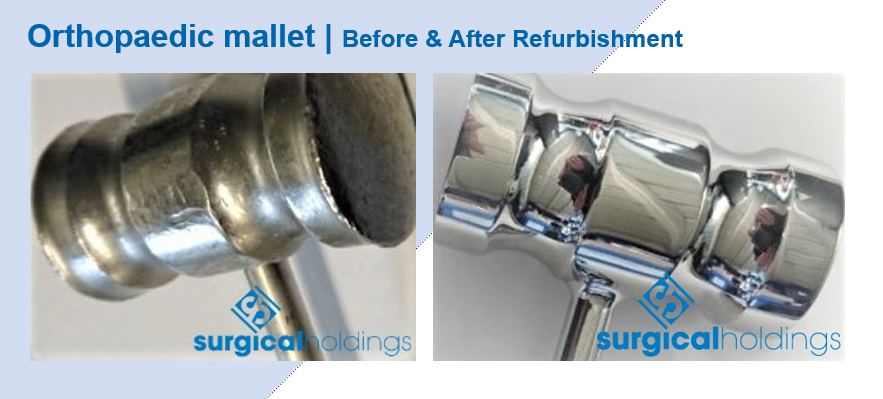 At Surgical Holdings, we offer a complete refurbishment service at a fraction of the price of new instrumentation. It is a managed system that you have control and access to on our Surgifix dashboard. Maintaining your inventory, and ensuring ongoing performance, every single instrument on every single tray can be refurbished to an 'as new' condition, instead of replaced.
Our full tray refurbishment service continues to grow in popularity, and we have dedicated and passionate representatives who can meet you in person to discuss the trays in question. (It is worth noting our little perk here that if you have a tray that is short of instruments, we'll include this in the service at a reduced cost) Bonus tray!
At Surgical Holdings, we frequently Repair Arthroscope Baskets that are needed or knee surgeries. Arthroscopy is a procedure for diagnosing and treating joint problems-; a procedure worth learning more about- Brace yourself!

Education | Arthroscopy

During an Arthroscopic procedure, a surgeon inserts a narrow tube attached to a fiber-optic video camera through a small incision, about the size of a buttonhole. The view inside your joint is transmitted to a high-definition video monitor. Arthroscopy allows the surgeon to see inside your joint without making a large incision. Surgeons can even repair some types of joint damage during arthroscopy, with pencil-thin surgical instruments inserted through additional small incisions. Incredible!


With such innovative surgeries performed in today's world, at Surgical Holdings we uphold our 30-year reputation to support and provide healthcare professionals with the means to perform their expertise. Whether it be newly manufactured Kirschner Wires, or refurbishing an entire full set Hip tray, we are committed to delivering quality instrument sets suitable and safe for the most delicate of Orthopaedic procedures.


Credits:
https://www.bbc.co.uk/news/uk-57793122
https://www.mayoclinic.org/tests-procedures/arthroscopy/about/pac-20392974#:~:text=Arthroscopy%20(ahr%2DTHROS%2Dkuh,a%20high%2Ddefinition%20video%20monitor.
https://www.rcseng.ac.uk/news-and-events/media-centre/media-background-briefings-and-statistics/orthopedic-surgery/
The following two tabs change content below.
Latest posts by Leah-May Keeble (see all)