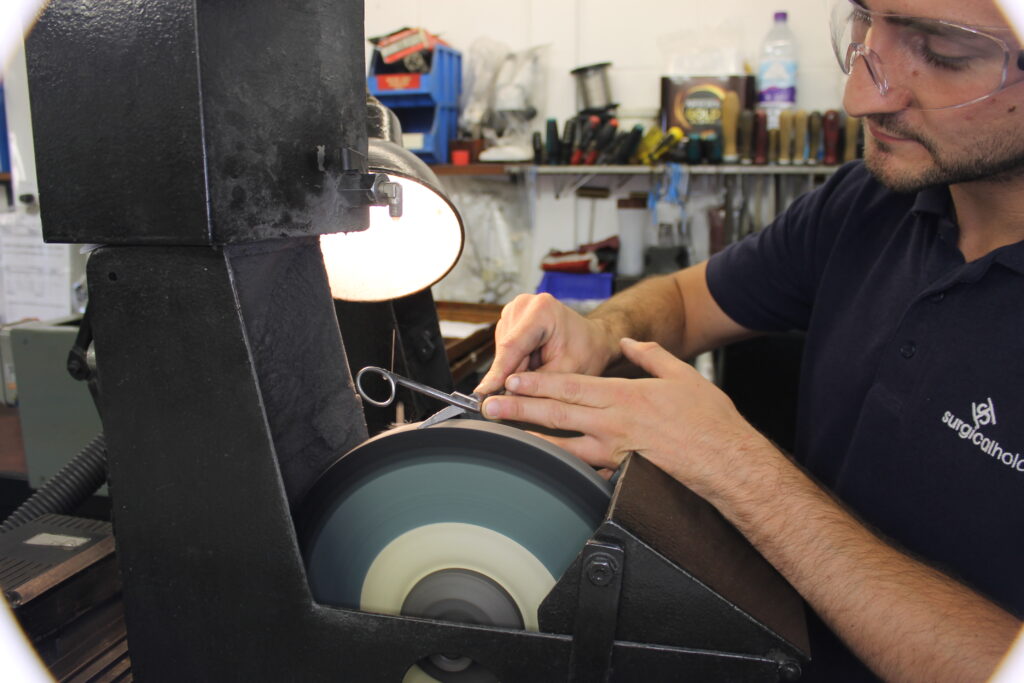 Today we are delighted to announce the launch of our new company-wide green initiative in in support of our theme of Sustainability, helping both our company and the NHS reduce its carbon footprint and supporting the industry in its goals to reach net zero by 2050.
This launch builds on our commitment to make lasting and substantial improvements in several ways, from the way our company operates and practises ethical duty through to the in-house Refurbishment services we provide to our customers, as well as training the next generation of skilled technicians to adopt a circular approach.
Our new Ethical Duty Smart Repair Service
Environmental initiatives are no stranger to us here at Surgical Holdings. This is why we are excited to introduce our newly launched Ethical Duty Smart Repair service.
Through this, we continue to strengthen our mission to tackle global steel waste, which remains a huge problem in healthcare, and support positive efforts to better global sustainability within the surgical industry. Ensuring discarded hospital instruments can be put to use instead of sitting in landfills for centuries!
Currently, most surgical instruments – made of surgical grade stainless steel, which is non-biodegradable, end up in landfill and remain there, with impacts that are incredibly detrimental to the environment. It is recognised that it requires 50% less energy to refurbish a surgical instrument than to replace it.
In fact, research shows that the energy required to produce 260kg of stainless steel for surgical instrument manufacture (approximately 5200 scissors) could power an average British home for one year! Mining itself is known to contribute to biodiversity loss, land degeneration, water and air pollution, added to which the shipping of stainless steel for new instruments inevitably also contributes to harmful carbon emissions.
(Also worth nothing – if healthcare were a country, it would be the fifth-largest emitter of greenhouse gases on the planet![1])
Through our newly launched 'ethical duty' refurbishment service, every single surgical instrument on every single tray can be entirely refurbished to an 'as new' condition, instead of replaced. This includes all manner of reusable surgical instruments, such as Laparoscopic Instruments, Rigid Scopes, Pneumatic (air) Tools, Orthopaedic Power Tools including Electric Handpieces, Diathermy Leads and Bipolar Cables and other instruments.
To make the process easy, customers can now also access our unique online customer dashboard, Surgifix, which allows the whole repair process to be arranged and managed completely remotely.
Education and training
To reduce our internal carbon footprint as much as possible, all Surgical Holdings repairs are carried out in-house and all our technicians are trained through an internal apprenticeship programme to learn to manufacture instruments rather than simply repair them.
This allows all repairs of rigid endoscopes and orthopaedic power tools to be carried out to an exceptionally high standard, as well as equipping workers with the necessary skills to ensure a sustainable flow of surgical instruments in line with our circular approach.
We are also excited to be extending our green footprint by further empowering our staff through ISO14001 certification to better support efforts to eliminate our company's environmental impacts. This sets out a framework that our company can work to, to reduce water and cut down our energy use.
Corporate membership of Ecologi
Last but not least, as we continue taking big steps towards positive climate action this year, and devote our attention to giving back to our planet, we are proud to now be a Corporate Member of Ecologi – a charity dedicated to funding a number of exciting global environmental projects – alongside the big shot players such as BBC, Tech Crunch, Forbes and The Guardian, and 11,278 other businesses worldwide.
We are so excited to present you with scientific insight on our real time carbon-footprint analysis over the next year.
So far this has included funding 1,315 trees to support mangrove restoration efforts in Madagascar, as well as supporting reforestation projects in countries such as Kenya, Uganda, and the UK. We are incredibly proud to have cut our carbon emissions by 92.73 tonnes – and counting.
You can keep a track of all of Surgical Holdings' climate contributions by visiting: https://ecologi.com/surgicalholdings.
Get in touch!
Interested in leaning more about the benefits of using our instrument repair services? Contact us at info@surgicalholdings.co.uk or call us on +44 (0)1702 602050. For more information, visit: https://www.surgicalholdings.co.uk/surgical-instrument-repairs.html
---
[1] https://www.bbc.com/future/article/20200813-the-hidden-harm-of-medical-plastic-waste-and-pollution
The following two tabs change content below.
Latest posts by Leah-May Keeble (see all)